Voglibose 0.2 mg & Metformin 500 mg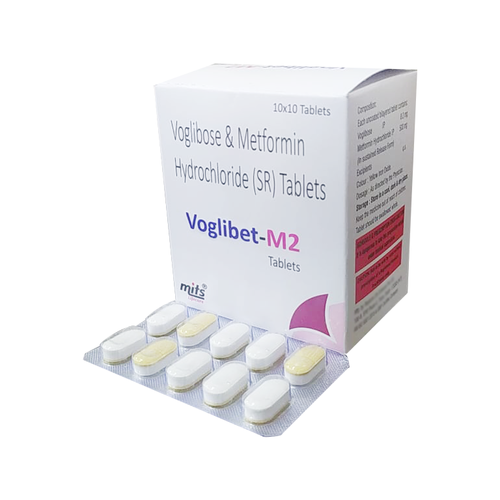 Voglibose 0.2 mg & Metformin 500 mg
Product Description
Voglibet-M 500 mg/0.2 mg Tablet belongs to a category of medicines known as anti-diabetic drugs. It is a combination of medicines used to treat type 2 diabetes mellitus in adults. It helps control blood sugar levels in people with diabetes.

Voglibet-M 500 mg/0.2 mg Tablet should be taken with food. Take it regularly at the same time each day to get the most benefit. Your doctor will decide what dose is best for you and this may change from time to time according to how it is working according to your blood sugar levels.

Keep taking this medicine, even if you feel well or your blood sugar levels are controlled. If you stop it without consulting your doctor, your blood sugar levels could rise and put you at risk of kidney damage, blindness, nerve problems and loss of limbs. Remember that it is only part of a treatment program that should also include a healthy diet, regular exercise, and weight reduction as advised by your doctor. Your lifestyle plays a big part in controlling diabetes.
Product details
| | |
| --- | --- |
| Country of Origin | Made in India |
| Manufacturer | MITS |
| Brand | Glimepiride 2mg,Voglibose 0.2 mg & metformin 500 mg Tablet |
| Packaging Size | 10X10 |
| Prescription/Non prescription | Prescription |
| Composition | Glimepiride 2mg,Voglibose 0.2 mg & metformin 500 mg |
Contact Us
Plot No. 331, 1st Floor, Phase -1, Industrial Area, Panchkula, Haryana, 134113, India
Phone :+918035918774